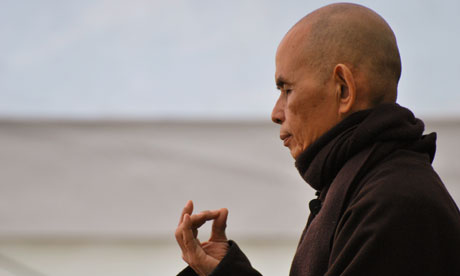 zen buddhist monk - thich nhat hanh
i wanted to share the news of thich nhat hanh's serious health crisis. like so many of you, i look to him as a guide on the path to peace and have learned so very much. he suffered a serious brain hemorrhage and is currently in the hospital. you can read more about it here.
we all know that death is a reality, but that our time of death is unknown. it's not some dark trick, it's just the way of things.
thay has given so much to the world -
i wanted to give something back.
for months i have had in my mind the creation of pieces that would work together to form a small sacred space.
mine are based upon my stitching and weaving, metal working and study of tibetan calligraphy.
i had the mats and stones/shells firmed up.
and then i made an offering bowl.
my offering to him for all he has done,
to be used by others to make their own
ripples and ripples and ripples.
may we all work towards peace